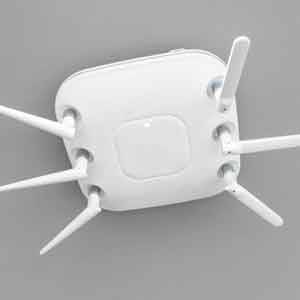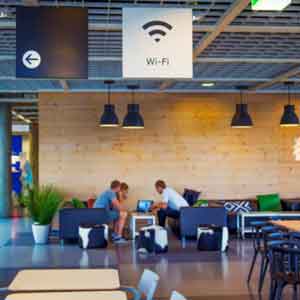 WiFi network installations
Regardless of your Wi-Fi requirements. Our team are able to offer wireless network installations with the most reliable technology and manufacturer level support. Additionally, our team can offer advice on all the latest industry solutions. Wireless network installations we offer provide our clients with:
An improved network infrastructure
A network for the future
Fast response times
Improved collaboration and productivity
Simple access to required information
We offer various wireless network services such as site surveys, zone planning and personalised advice from experienced engineers.
Wireless network installation (indoor)
The indoor wireless network installations we provide use pioneering equipment from all the top manufactures in the UK. For example, Unify, Meraki, Aruba, and Ruckus. This allows us to offer outstanding capacity, eliminate interference, and a greater range of coverage.
The beamflex technology from Ruckus Wireless will provide you with access points that have the highest and best connection throughout. You will enable network wide management that's easy to set up and also easily adaptable to your needs. Lastly, the system is far superior in comparison to off-the-shelf products.
Four stages to guarantee 100% WiFi coverage
Stage 1: A project manager will visit you at your site to map out the radio frequency capacity and coverage. In addition, we will discuss your requirement so we can provide a solution that best suits your needs.
Stage2: We will design a wireless solution that will take into consideration coverage, security, capacity, redundancy, and future growth.
Stage3: Our engineers will work with you to install your wireless network with minimal disruption to your business. Furthermore, our engineers will provide you with advice on maintaining your new wireless network.
Stage4: To finalise the job we will carry out a final survey to ensure we have met your requirements. Ensuring the coverage and capacity meet your needs.
Wireless network installation (Point to Point)
Our point-to-point wireless design and installation services are ideal for companies that require connectivity between multiple locations. For instance, Headquarters, offices, customers, or suppliers. With the advancement of services such as video, voice and data, the remote connections will require an increased bandwidth and the quality of service to safeguard data for time sensitive applications.
Now these services are also available when using modern WAN technology. However, they do come with an increased premium, both in terms of rental cost and installation. Although, this can be delivered as a copper pair or fibre, the connections are often given a contractual service level agreement of 99.97% availability. Alternatively, these expensive leased lines can be replaced by a single capital cost wireless bridge link.
Wireless Bridge
Leased lines can have a high installation cost and a high operation cost. If your building doesn't have existing fibre you will need to get the fibre installed from the closest PoP (point of Presence). To install new fibre, a trench must be dug to lay the armoured glass fibre between two locations. The cost of undertaking these civil works is roughly over £100 a metre if you're located in a city. In addition, urban arears will also require, permits, traffic control, road closures and repair bills to infrastructures. For example, existing drains. For this reason, the overall expense required for a wireless bridge is just a fraction of the cost. We can offer a range of wireless bridges that provide, multi-mile connectivity, 5 nines availability (99.9% uptime), and gigabit full duplex connectivity.