Fibre Optic Cabling Or Copper Data Cabling – Which Should You Choose ?
Fibre Optic v Copper Data Cabling.
Structured cabling offers a whole system of cables along with connectors and related hardware. This is applicable both for voice and data cabling. Furthermore it is applicable for enterprise data network as well as office fit out cabling. Your preference for IT cabling installations can directly affect the productivity of your IT arrangements. Furthermore the trouble-free and fast transfer of data across the network. In addition the power consumption, and the overall impact on the environment. Usually, enterprise IT networks consider copper data cabling. Usually from the Cat 5e,Cat 6 and Cat6a specifications for data cabling. In certain cases its important to consider the merits of fibre optic v Copper cabling in your applications
Copper cable is suitable as a short-range cable (less than 100m). These cables typically support typical desktop applications. However, for a higher throughput of data, faster transmission speeds and bandwidth demands demaned greater cabling. Thus recent intensive commercial application and telecommunications set the limit on cabling to approximate 10 GB/s. For instance, integration of AV cabling with an established IT cabling by use of Internet Protocol (IP). The advancement in IT cabling technology has resulted in wider adoption of  10Gig cabling. Furthermore this has empowered the data transfer speed to reach 10 GB/s over Ethernet networks.
In addition to that, the length of cable and higher speed of data transfer needed for the most advanced business system led to introduction of Electro-Magnetic Interference (EMI), even in 10gig Cabling. The installation of 10G cabling is comparatively complicated and demand for high skills and expertise.
Types of Copper Cabling
Coaxial
Cat5e
Cat6
Cat6a
Cat7
Cat7a
Cat8
Fibre optic cabling contains very thin fibres of plastic or glass, which are called optical fibres. Every strand is capable of carrying approximately 25,000 calls. Thus, an office fit out cabling based on fibre optics has the capacity to field up millions of calls. The network bandwidth and speed of data transmission is also substantially higher through fibre optic cabling as compared to copper cabling. A broadband based on optical fibre can normally provide the speed which is five to ten times faster as compared to traditional DSL broadband.
Fibre optic cabling also consumes less space, is less heavy, and has a higher density, and fibre splicing allows it to be laid in much longer runs. Expert organisations are preferring fibre optic cabling for increasing number of process and data-intensive applications. This includes Unified Communications (UC), and access to cloud-based and cloud hosted services.
Types of Fibre Optic Cabling
Singlemode – OS1
Singlemode – OS2
OM1 – Multimode
OM2 – Multimode
OM3 – Multimode
OM4 – Multimode
OM5 – Multimode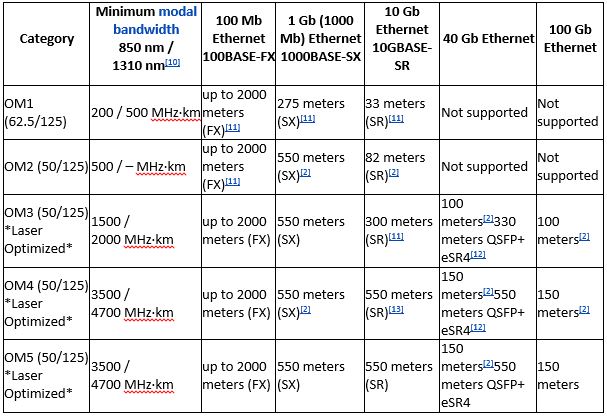 About NM Cabling Solutions – Structured Cabling Specialist
NM Cabling is a technology and computer cabling integrator working throughout the United Kingdom.
We have created a comprehensive Knowledge Centre for our industry which can be viewed at https://www.nmcabling.co.uk/knowledge-centre/